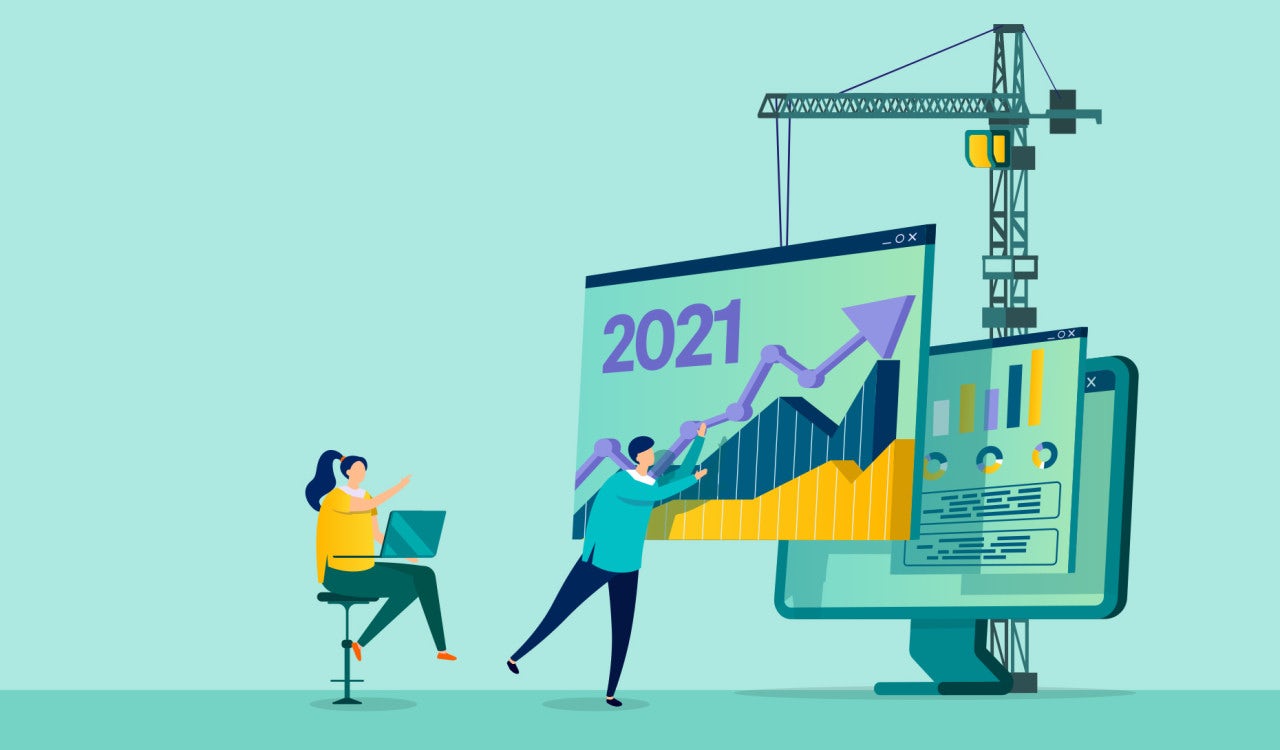 The best website designs often share a few key details with each other. Website design is a complicated subject as creators and developers have to consider both, a pleasing visual appearance (aesthetics) and a robust functional design (ergonomics). With so many things needed to be considered, the process of designing the best website design can be tricky. This blog will help simplify the task and show the key elements of website design. Firstly, it is important to look at elements such as user flows and website structure then work down to the individual web pages. It is also essential to cover other critical aspects of design, such as mobile web design and testing. It is also important to create a website brief the business is designing its own website as it will allow for improvements and provide a step-by-step plan to follow.
The best website designs should include an aesthetically pleasing and user-friendly homepage. Software as a Service or SaaS companies should generally include a sign-up link at the front of the website to maximise potential customer sign-ups. Other websites should also look to utilise the homepage of a website to maximize customer engagement as it is the link visitors view the most often.
If the website is an e-commerce business, it is important to describe product categories and variations, list the payment and checkout methods available, shipping and return terms and costs, tracking, discount codes, any loyalty points etc. This will improve the user experience of the website and is vital in growing the brand of the business.
Company information is often ignored in new website designs and should be included in the best website designs. Therefore, visitors should know information about the business regardless of whether it is an ecommerce, NGO, or information website. Information about the company history, brand, services, team, and contact details will all help visitors to understand what the website is all about. A complete summary on the services or products that are provided and descriptions of the very origins, values, and company mission.
API Integration is also very important in the design of a website. The website will need to integrate with any external API sources to provide an optimal user experience. An example of a commonly used external API source is using Google Maps in the location section of the website. The location of the business or contact address will be shown using Google Maps within a company's website using API integration. This can be used within mobile applications as well as websites.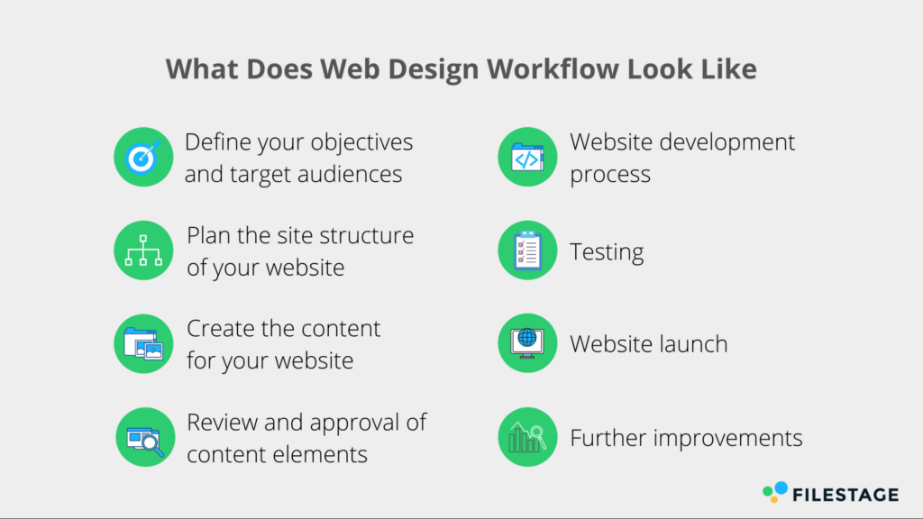 Fig.1. (Source: Filestage)
The image shows the workflow of the best web design processes. Following this process will improve chances of creating a successful website.
Naturally, a business will want to choose an agency to host the website, alternatively businesses may also have other web hosting arrangements. For example, GoDaddy is a web hosting service where a URL can be created, and templates can be used to design a website. There are many providers for similar services and prices vary between them.
Any modern hosting setup should be secure, provide regular backups, and most importantly provide a website that is fast and reliable. Although sometimes a timescale might not be of significance to businesses, the project can take some time while it is perfected. On the other hand, for some businesses there might be a critical deadline to meet. It is important to measure the success of the website and track Key Performance Indicators. These figures will show how many visitors visit the page, click on links and time spent on each page and other statistics.
Web development agencies are experts at creating the best website designs. The agencies will help guide clients who require web development services to help make the correct decisions, and also will be able to take an idea to a functional and developed site. As a result of their expertise, their services will come at a premium cost. This is a great option for businesses with complex needs and do not mind the cost.
Before you officially launching a website, businesses should try to get as many people as they can to play with and test the website. Businesses should try to gather feedback from and ask questions to the users. If multiple users mention a similar question, then it is important to try and fix the website in its early stages.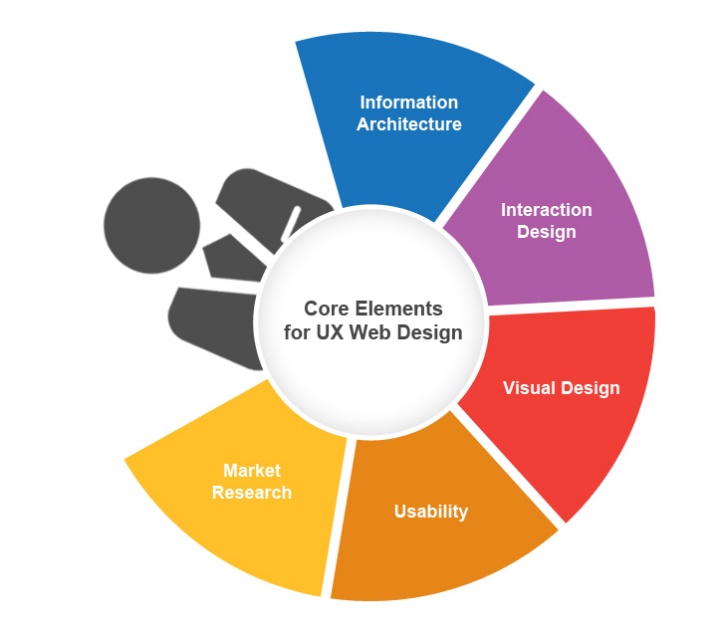 Fig.2. The image shows the different core elements for a web design user experience. There should be a focus on the information architecture, interaction and visual design, usability and market research.
Keep design and navigation simple
Keep a consistent colour theme with branding
Use high quality content and pictures
Websites must be mobile friendly
Maintain consistency with design and fonts
Summary
At the end of the day, it is important to recognize that a website is almost never a perfected project as it is something that can and should improve regularly. If a business is at the beginning of its journey and has decided to use a template site, it may outgrow it very quickly, and then chose to choose professional designers who can take the website to the next level. On the other hand, businesses may realize that the customer base is changing, and it is time to rebrand the website. Feedback can also be used here to improve and adapt the website and making sure it runs smoothly and works on mobile phones as well.
When time is invested and thought is put into the web design idea, not only will there be a much clearer picture of what the finished design should be, but businesses will also be able to send that draft to a web development agency, and receive a clear price, estimated timescales, and feedback from them to move forward with the web design project. Creating the best website designs takes time and effort therefore it is important to choose the web designers wisely.
Content Post:
Are you thinking about creating a website for your business or non-profit? There are many details to consider before building a website.
Help grow your thoughts and ideas into a real functioning website. See our blog on 'Elements of the best website design'.