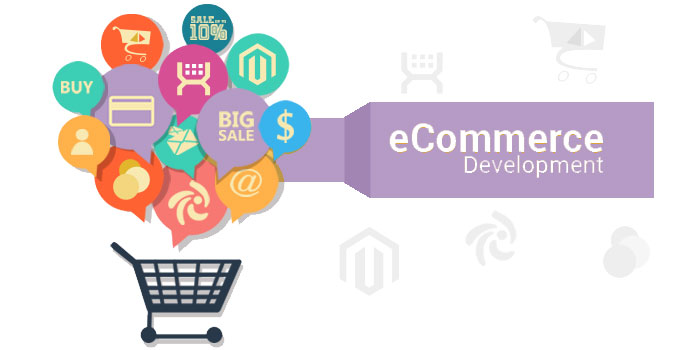 Ecommerce is a big part of the UK and international economy so it is important to businesses that they can sell their products or services online. Ecommerce gives businesses the ability to reach more customers than traditional retail stores. With so many purchases being made online now, it is the outpacing the traditional physical retail stores. It is almost essential to have an eCommerce website design for most businesses as it allows reach to customers across the world.
87% of UK households shopped online in the past year and total ecommerce sales are estimated to have reached a behemoth £693bn. Online sales have been growing year on year with many huge online only businesses replacing conventional brick-and-mortar stores. The shift of consumers shopping preferences has also made it essential for businesses to adapt and build a eCommerce website design to remain competitive.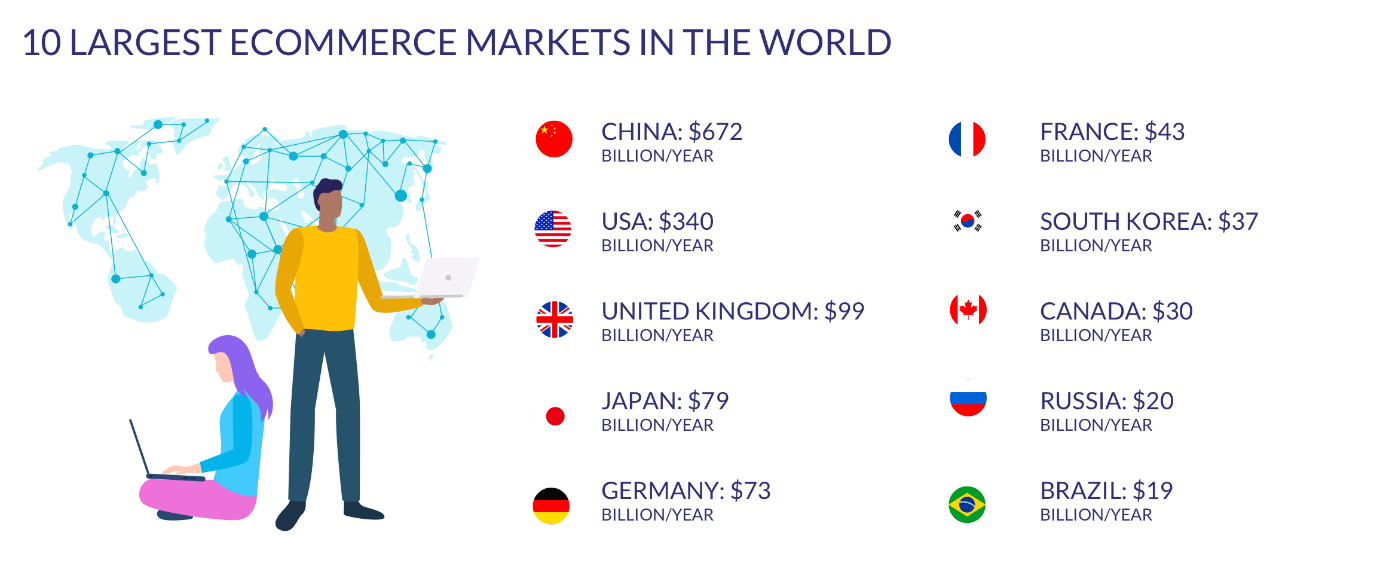 Fig.1. The image shows the 10 largest ecommerce markets across the world. The UK ecommerce market is the third largest in the world.
First of all, businesses really need a simple online website to sell products. Reputable designers such as Smarty Software can help create the perfect ecommerce website design, tailored to the specific needs of a business.
The initial step to building a successful ecommerce business is knowing what products or services will be sold online. This is quite often the most challenging part of starting a new ecommerce business. Businesses should highlight strategies to research a market, discover the demand for a product or service, and work out the gross profitability of selling the products.
Online businesses will also need a secure online payment processing method: payment systems have to be secure and safeguard personal information such as credit card information when making online purchases like electronics, clothes, and other services. Using secure third-party payment services is important to give users confidence in your online store. PayPal, Stripe and Payoneer are all examples of secure payment services that can be used.
If businesses want to build trust with customers and drive significant sales with the ecommerce web design, there needs to be serious though put into branding. The branding is like the soul of the ecommerce business as it shows what the company is, what the business is cares about, and how the business differentiates from competitors. This plays a huge role in building a connection with the potential audience and drives sales.
In an ecommerce web design, it is important to include all of these pages to create a user-friendly website:
A main page with drop down menus to display all products
About us page showing the story about the business and its idea
Contact us page showing different methods of customer contacting the business
Shipping and return policy with all details
FAQ and help page showing answers to common questions asked by customers
Online stores are accessible 24 hours a day and 365 days a year, therefore customers can visit an online store at all times, regardless of what their schedule might be. Many people do not always have the time to physical stores and are choosing to shop online to make purchases. If a business can offer this to customers, there is no reason to not have an ecommerce website design and appeal to a broader range of customers all looking for a convenient and flexible shopping experience.
Due to the increased accessibility of the internet, millions of people across the world can view a website at a moment's notice, meaning that for those looking to grow their businesses and reach out to a larger target market. Comparing the number of customers, a business can reach through a website to the amount you can reach through a physical high street store, there is no reason to not take your business online to improve your reach.
With optimal Search Engine Optimisation, an online store will appear near the top results of search engine results. Also, social media networks will provide you with a platform to engage and build relationships with your customers through reviews and ratings, as well as keeping them informed with regular posts about new products and special offers.
An ecommerce website and app are also very advantageous because of the decreased operational costs of running a brick-and-mortar store. You will not have to worry about the overhead costs of leasing real estate and the subsequent costs of having a physical store. As a result, you can invest in an e-commerce website design to create a successful website and reduce operational costs.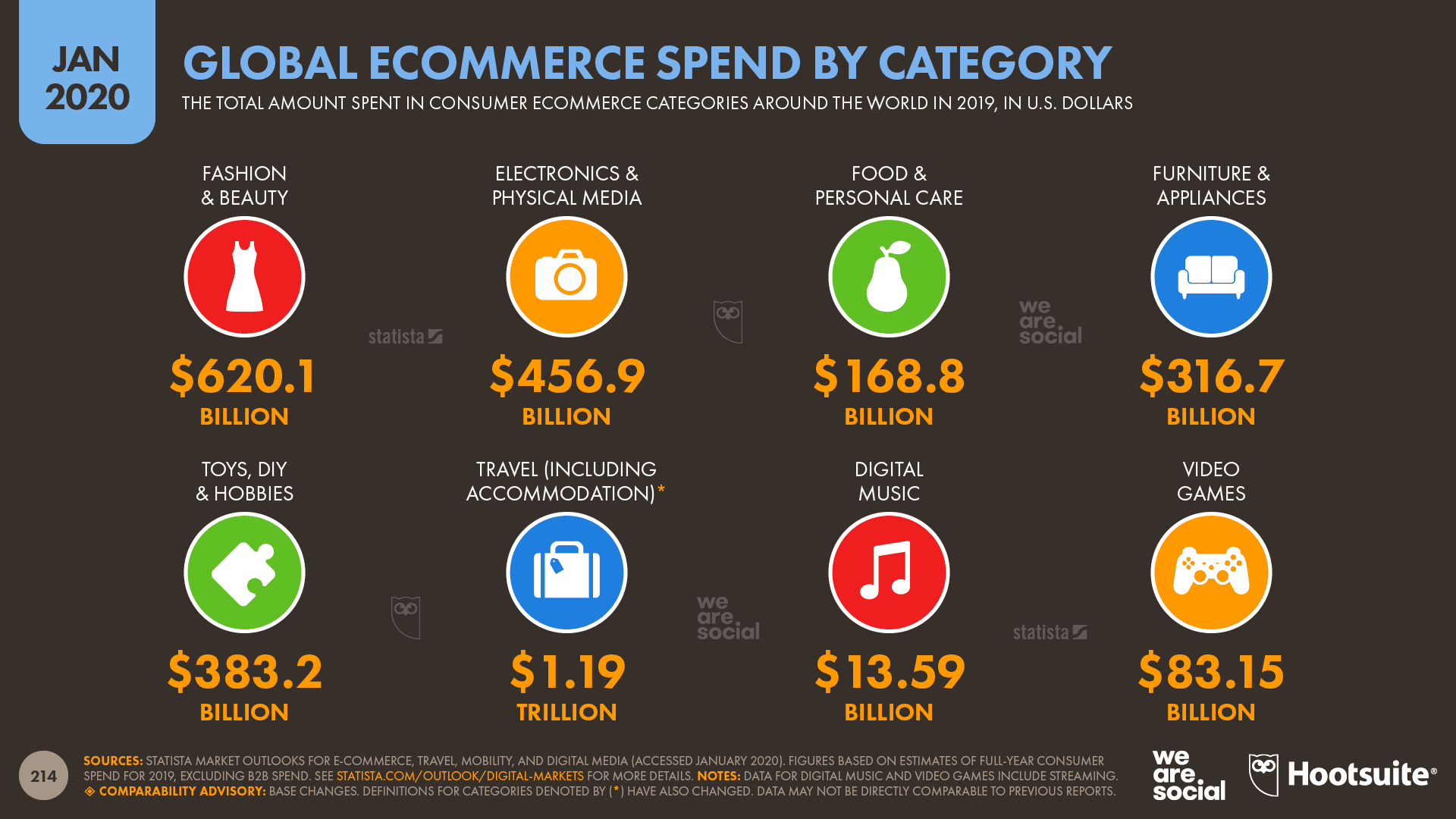 Fig.2.(source: statista) The image shows the value of total spending across different categories. Fashion and beauty are the highest with electronics and physical media next.
Conclusion
Online retail is a thriving sector. However, many ecommerce businesses fail to gain traction and collapse after trading a short while. This emphasises the need for a good ecommerce website design using professional web designers. Using web developer to set up an ecommerce store, secure your investment, and stabilise the finances to build an ecommerce store.
Furthermore, for small business owners with no experience in web design, making the move to an online shop can be daunting. However, managing an ecommerce store can be similar to running a brick-and-mortar one. Professional teams can help develop a great website for any business as they have experiences in user experience and best optimising web page space. Business owners could also choose to create their own website using website builders and take their business online. If business is looking to choose between a physical store and an online one, it is possible to create a seamless experience using a combination. Many stores use an ecommerce website design as well as physical stores, with both being integrated creating a seamless experience for the customers.
Ecommerce offers businesses a wide range of opportunities, from marketing to increasing a business's products ranges to creating more revenue and with an optimised ecommerce website design, businesses can not only achieve these objectives but also offer customers a convenient service available 24 hours a day, 365 days a week.
Content post text:
Are you looking to turn your idea to a real online business? Look at our latest blog on #eCommerce
Using a simple checkout system with multiple payment methods available for your customers. Smarty Studio can build an online store for your business and take it to the next level.
Read our latest blog on 'eCommerce website design made easy by Smarty Studio'
#eCommerce #hospitality App & Website #e-commerce #delivery apps